Last Saturday marked the year anniversary since my grandma died and it was in some ways exactly what I expected. Memories started washing over me as early as the week before, when Facebook reminded me what I was doing the Monday before Memorial Day, 2016. I quickly learned how to adjust that feature's date range.
When I arrived in Oceanside (which is, by the way, my current location), V. gave me some advice from "them." Neither of us can identify for sure who "they" are, so when she referred to "them," it was with extra emphasis and raised eyebrows.
"'They' say," she said, "that the first year is the hardest. Because it's the first time doing everything without the person."
Makes sense. Truly, I'm not sure that, say, Valentine's Day will ever get easier. She was excellent at sending cards or small gifts on off-holidays. On V-Day 2015, she sent a pair of remarkable fingerless, faux-suede, fur-lined gloves embellished with tiny crystals and little fur puffs that dangled from long ties. "These looked so fun!" the note said. Included with both was a tiny card like the kind we used to give to classmates in elementary school. It was holographic, and one picture showed some kind of spotted mountain cat (I don't recall which kind) in nature. When the card shifted into the light, the cat became animated and above it appeared the words "You're PURRRRRFECT!"
The whole little package was Classic Grams.
Goddamnit, I miss her so much.
I've referenced it before, but the whole of last year (and if I'm being completely honest, at least a few days a month, still) felt like M'Lynn at the cemetery in Steel Magnolias.
That feeling has gotten better. It's less violent, more like all the energy is drained out of me and I want to melt into the earth in a pool of my own warm, salty tears. That maybe if I cry enough about it, I'll wake up and it won't be true.
Last year, during an episode at work, I Slacked a friend to warn him. I try to do this not as an excuse for shitty behavior, but as a heads-up. "Hey, friend. If you walk by and I'm crying, know I got pulled into the grief undertow again. I'm still swimming, but don't freak out if it takes me a bit to surface." You know, that kind of thing.
What's nice about driving alone along quiet backroads was that when that undertow dragged me into deep water, I tended to be among trees. A canopy of green overhead and tears rolling down my face as the miles ticked off was incredibly cathartic. Maybe not as cathartic as it would have been if I'd been running all those miles, but soothing nonetheless.
Thing is, I really don't know how I'll ever get over this. I know she wants me to. She wanted me to be over it last year, before she was even gone. The moment she pointed at the urn in the living room and told me that's what we were to store her ashes in, that she'd bought it — and been using it as decoration in the living room, mind — for that specific purpose, she wanted me to accept and move on.
Well, I think I've accepted? It's unclear. I think because I've accepted I'm still such a mess, sometimes. Is that how this works?
My uncle's been mum this week. My aunt texted last week to check in, knowing this was a hard one for "us all." I texted my cousin and she instructed me to remember the good times. Generally, with that family, there's something about prayers or God or what have you. I'm happy they have that to get them through, really. But it isn't where I live. And it doesn't particularly help. So, I stay away to avoid having to hear advice and the Good Word when all it does is remind me how alone I am with this, with my grief.
So it's especially nice to be here, in California, the next place where I feel most at home. Colorado is still very much on the table; I continue to want to live somewhere new. But California has what sometimes feels like a magic grip on my heart and soul.
When I was in Wisconsin over Memorial Day weekend, a cousin was telling me that her daughter had visited California ("Like, Santa Monica, L.A., San Diego… that area") and went to Nixon's Presidential Library in Yorba Linda.
Grams and her BFF came to visit us in California the first winter the people at that time known as my family and I lived there. Grams confessed to me years later that at one point during the trip she seriously considered kidnapping me — just driving away with me and not looking back, rather than leaving me in the questionable care of the sociopath her daughter had taken up with. But before she had designs on felonies, she and L took me to Nixon's Library, and we went to Mission San Juan Capistrano and saw all the swallows, and dipped our toes in the Pacific, and she bought me the best blue velour bucket hat in an early channeling of Willow Rosenberg I didn't realize was happening.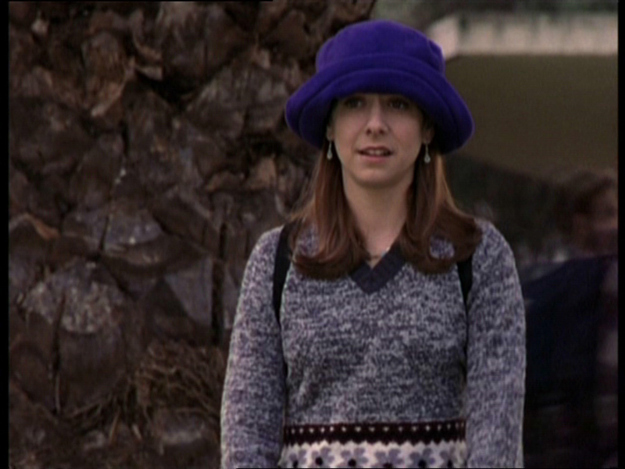 I can almost smell the vintage shop it came from. Knowing what I know now of California's freeways, it completely escapes me how she handled them so well, but that's more credit to her. Glimmers of memories from that week with her remain, like the live photo-versions of actual printed pictures tucked away in albums: sitting like a "cool" girl on the edge of a fountain in SJC; looking over at the camera in melodramatic surprise at how cold the ocean was as it washed over my feet, standing in a blue-striped t-shirt covering my green bathing suit at golden hour; sweeping my eyes over some ancient-looking books in an room that could've been an office at Nixon's library; watching the sign for Yorba Linda pass by through the window.
California's a difficult state to see all of. San Diego to L.A. alone is four hours on the 5, which might actually be one of the circles of hell. And you haven't even come close to the middle of the state after those four hours. Over the next seven years, and in those years following, I'd see much, much more of it. But that first big trip around, with her and L, has anchored me here. At the time, I wanted nothing more than to leave with her, and if she'd told me to just stay quiet and we were leaving I would've, no questions asked. She didn't, and I was stuck in another circle of hell, and I spent the next seven years dreaming of being somewhere else.
You know that saying you only appreciate what you have when it's gone? Well, that's me and California. For all of its drawbacks (earthquakes, fire, drought, locusts, frogs, June Gloom, traffic, expensive AF), it also leads the country in environmental standards.There are three old VW buses in this neighborhood alone, ffs. IT HAS THE BEST BEACHES IN THE COUNTRY. And they are free, and the lifeguards don't harass you.
It's possible I'm just high on being back with someone who's known me for 20 years, hanging out with her adorable, if often shrill, toddler, and chatting about politics with her very smart, very chill husband. It's possible there's some weird chemical in the palm trees bamboozling me. It's also possible all the Fleetwood Mac I've been listening to has inceptioned an extra heap of California love.
Or, I could finally be home?
I could finally be home.